Goodly Drawn Boy, part 1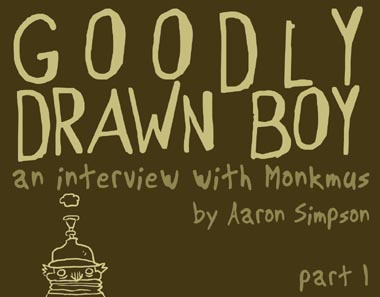 Now that the hurricane waters have receded and the New Orleans brass bands are again striking up the bittersweet notes of jazz funerals, it brings new meaning to the collaborative music video between Kid Koala and Monkmus – 'Basin Street Blues.'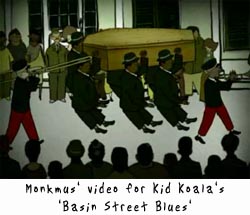 The now ever more poignant animated short is both somber and celebratory; depressing and highly inspirational. Much like the procession that inexplicably ascends into the air, the imagery sends your emotions soaring. It is exactly the type of work we've come to expect from Monkmus.
But music videos are surely not all he creates. After attending school on each coast, RISD in Rhode Island and CalArts in Los Angeles, he's worked on animated features, but also live-action shorts. He's animated high-profile TV commercials for Burger King and Nike, and his animated short 'The Topside Rag' recently aired on Cartoon Network as part of their Sunday Pants block.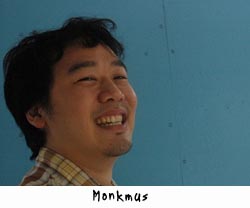 He's also an illustrator, a comic book artist and a recent addition to the Hornet Inc. team in New York City.
But it's the music videos that the world has come to know him for. At this year's SxSw Film Festival, Monkmus' animated music video for Badly Drawn Boy's 'Year of the Rat' won the Jury Award for Best Music Video. And the same video picked up the 2005 award for Best Music Video at the Annecy International Animated Film Festival. Watch the video and you'll soon understand.
Monkmus took a beautiful, well-written song and turned it into a visual poem. It's a story about hope and reconciliation, and however idealized the message may be, the video makes an undeniable, emotional impact.
Cold, Hard Flash recently got together with Monkmus to discuss his ascending career, his Flash-animated projects and what inspires him.
AARON SIMPSON: Your music video for Kid Koala's 'Basin Street Blues' seems even more meaningful in the wake of the Katrina disaster. What inspiration did you originally draw from as you created the video?
MONKMUS: Pretty much the music. The idea of doing a funeral procession just popped into my head as I listened to the track. The more I listened
to it, the more the idea grew. I just went with it.
AARON: You recently signed on with Hornet, Inc. How did you first meet up with them?
MONKMUS: I cold called them. My contract had come to a close with my former reps and I was actively searching for new representation. I don't specifically recall how I had ever heard of Hornet Inc. (I believe through a friend), but I checked out their website and was immediately impressed with the site and their body of work. So, I e-mailed them to see if they might be interested in working together.
AARON: You took home some fairly prestigious awards this year – Best Music Video at both Annecy and SxSw. Did you make it out to France or Austin this year for the ceremonies?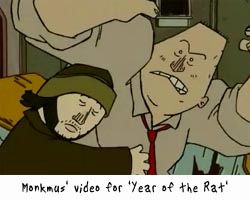 MONKMUS: No. I would have liked to… but between my schedule and the expense I really couldn't afford to go. I'm really honored, though, to have won those awards at such great venues. I'm always happy to hear that people enjoy the work that me and my associates have created. To be honest, I wasn't expecting to win anything, so the awards are all a bonus.
AARON: Growing up, did you know that you would work in a visual medium?
MONKMUS: Well… I could always draw well, and I enjoyed it, but it never really dawned on me that I could make a career of it until late into High School (11th grade). For the longest time, I figured I'd go into a profession: Science, Medicine, Law, Business, etc…
AARON: When did you first add computers into your creative process?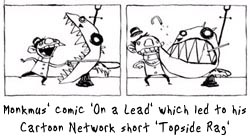 MONKMUS: I've had computers surrounding me my entire life. My father had a knack with them, so even when I was 10, there were like 3 PC's, 1 Macintosh (classic), 2 electronic word processors, and an Atari 400 sitting around the house. It wasn't until college that I started using the computer artistically (and I'm using this term very loosely). Nowadays, there's always a computer around when I'm working.
AARON: At RISD, did you work with filmstock in your production classes, or was it all digital?
MONKMUS: Film stock. The look and feel of film is amazing. I kinda miss cutting on a Steenbeck, those machines were kinda fun to work on.
AARON: Did you take animation classes there?
MONKMUS: Yes. I learned a lot about experimentation, conceptualization, and working with film when I was at RISD. On the other hand, I did spend a year at CalArts, where I learned about story structure, acting, and design. A friend of mine from school always commented on how I had the best of both worlds having attended both RISD and CalArts. In light of this, I feel very fortunate.
AARON: How did you learn animation timing?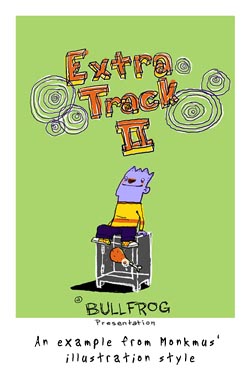 MONKMUS: Also at CalArts. I wasn't all that great of an animator in school, but I learned the basics there. I've gotten a lot better since then just through application, observation, and experience.
AARON: Did you learn After Effects at school?
MONKMUS: No. Other than Photoshop and Quark, I've learned to use every piece of software by reading books and manuals, then applying what I've learned directly into a project. A few programs I learned by just winging it until I got good at it. I figure this ability came from hours of video game playing, where I'd rarely read the manual except to look at the cool artwork.
That's the end of part 1 of the Cold, Hard Flash interview with Monkmus. Check back soon for part 2.