Goodly Drawn Boy, part 2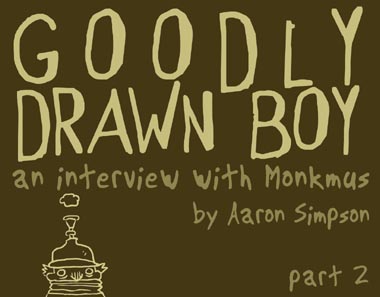 The first part of the Cold, Hard Flash interview with Monkmus went up earlier this week, and now we're back for part 2. In this half, we learn about Monkmus' recent spot for Burger King, which of his projects were produced in Flash and which music videos he looks to for inspiration.
AARON SIMPSON: Was your Burger King project, 'Honbatz,' produced entirely in Flash?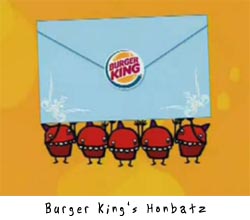 MONKMUS: We used a little AE, here and there. There's even some 3-D on one of the spots. Overall, though, 95% of it is good 'ol Flash.
AARON: When you worked on 'Honbatz,' was the Flash format already chosen by the ad agency?
MONKMUS: No. We convinced them that Flash was the way to go, both for aesthetic and budgetary reasons.
AARON: Before that, what other projects did you produce with the help of Flash?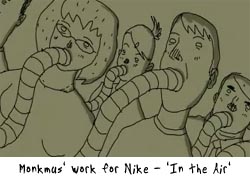 MONKMUS: Other than Honbatz, The Badly Drawn Boy video, 'Year of the Rat' used a lot of Flash. 'In The Air' (Nike Canada), 'Extra Track II' (Bullfrog), 'Away,' and all the shorts for Kid Koala's 'Short Attention Span Theater' were done completely in Flash.
AARON: You've animated with After Effects and Flash. When you take on a project, how do you decide which software to use?
MONKMUS: Usually, it's a combination of how the concept art looks, the budget, and who's available to work on the project. Recently, it seems that all my projects require both software packages.
AARON: If you're looking to learn a new After Effects trick, or a Flash technique, where do you start?
MONKMUS: I ask a friend. A few of my friends are way more savvy than I am when it comes to using these programs. If nobody knows, I hit the books and/or the web for help.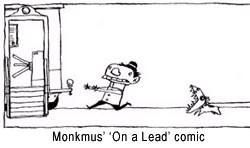 AARON: When you first created the 'On a Lead' comic, did you envision that one day it would evolve into an animated short?
MONKMUS: When I was drawing it, I always had the feeling that it could be reworked into an animated short. A friend of mine even mentioned
that it was laid out more like a storyboard than a comic.
AARON: Did you have any help on the 'Topside Rag' short?
MONKMUS: Yes. I've been working with two excellent animators, Johnny Painter and Maximilian Graenitz, and a great layout/background artist, Kenard Pak.
AARON: What software did you use in creating 'Topside Rag?'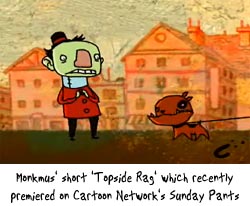 MONKMUS: Flash. We used After Effects for the compositing and camera work, but all the character animation is created in Flash.
AARON: How did 'Topside Rag' find its way onto Cartoon Network?
MONKMUS: Cartoon Network was looking for short films and projects to commission for their new show, "Sunday Pants", and they approached the folks at Ka-chew and asked if they wanted to submit anything. Ka-chew, in turn, asked me if I was interested in pitching an idea for the show. I submitted 'Bruno the Man,' Cartoon Network took a liking to it, and it's been great working with them ever since.
AARON: Your body of work is full of music videos. How important is music to your animation process?
MONKMUS: Well, if it's a video, the music is everything. I draw all my inspiration from listening to the track over and over again. The look, the timing, the feel all come about from doing this. In the end, I try my best to marry the visuals with the music as best as I can. On the other hand, if It's a personal film or purely narrative project (ie. short films, commercials) the music is not quite as important when it comes to the initial creative process.
AARON: Do you ever feel like technology and software are limiting your work?
MONKMUS: Not really. Compared to how things were done just 10 years ago, technology is very liberating. Sure, there are a few bells and whistles I wish Macromedia would add to Flash, but overall I'm pleased with the software. I also find that it's limitations can sometimes lead to better solutions. The one drawback with technology is that there are TOO MANY options and a penchant for endless tweaking. The trick with computers is knowing when to call it a day and learning to move on.
AARON: You've collaborated a few times with your cousin, Eric San, also known as the hip-hop artist Kid Koala. Do you two have any other collaborations in the works?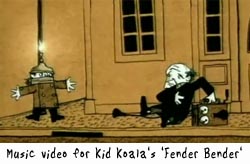 MONKMUS: Not until 2006, when his next album is due out. He's super busy working on his 'epic' comic book, right now. Me, I'm up to my ears working on my shorts for Cartoon Network.
Eric and I do chat from time to time… So, I'm sure the subject of the next music video is just around the corner.
AARON: Are you working on any other personal projects?
MONKMUS: Just finished a short live-action project. It was fun and a great experience. I may try it again in the future. Other than that, I finally got my website up and running (2 years in the making!).
AARON: If put on the spot, could you name 3 favorite animated music videos?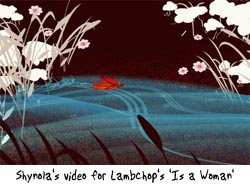 MONKMUS: Hmmm…
1.'Sledghammer' (Peter Gabriel) – Stephen Johnson, Aardman, Brothers Quay
2.'Is A Woman' (Lambchop) – Shynola
3.'Drop – Do It Again' (Cornelius) – Koichiro Tsujikawa
AARON: Thanks, Monkmus.
MONKMUS: It's been a pleasure.
There are no comments yet, add one below.