Joel Trussell's Viking Video
Viking warlords playing wicked, ass-kicking guitar solos
on the high-seas. Now that's what I call a music video. Check out this Flash-animated music video for Jason Forrest's War Photographer off his recent album 'Shamelessly Exciting.' It's the brainchild of Joel Trussell, a brilliant character designer, who along with a few friends has assembled a perfect compliment for Jason Forrest's earth-shaking track.
According to Joel, the video was produced primarily with Flash, along with a little help from Photoshop and Premiere. He called upon a gang of production friends from around the globe to help pull it all together.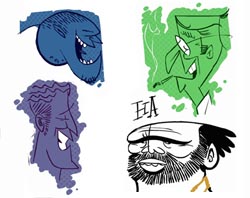 Joel explained that his crew included "Darin Bendall (Tokyo), Chris Fox (Atlanta), Leo Riley (LA), Gene Blakefield (Seattle) and Doug Gordon (Seattle as well). God bless the internet. They were a talented crew to work with."
Check out some of Joel's other animated pieces over at his Cartoon Cockfight site. He's been a Flash user for 6 years now, and it's quite apparent that he's been drawing for much longer than that. And here's a great interview with Joel over at Pop Cult Magazine.