Second Season of ESPN's Off-Mikes
Today marks the beginning of the second season of 'Off-Mikes'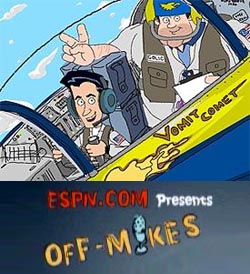 on ESPN.com. Last summer, ESPNRadio.com launched a series of 10 Flash-animated shorts based on audio clips from the 'Mike & Mike In the Morning' radio show. The episodes are about 1 minute in length, and they're animated by ANIMAX Entertainment, a Flash-heavy animation studio based in Los Angeles. Check out the ESPN site to see the new season (not yet live as of 8am this morning).
Cold, Hard Flash interviewed Tim Jones, VP of Production at ANIMAX Entertainment, this past summer, and he discussed 'Off-Mikes' and their animation production pipeline.
There are no comments yet, add one below.