Delicatessen's Delicious Animation
Delicatessen, the Italian illustration and animation company,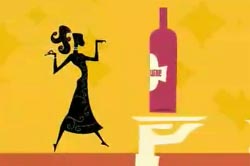 is headed up by artists Cristiana Valentini and Gabriele Fantuzzi. Their illustration work alone is enough to drool over, but I'm particularly fond of their Flash-animated work.
They've recently animated a few shorts for Sky Cinema, the Italian broadcaster. The first 'Tempo di Cottura' (Cookin Time), is a highly stylized short that marries the concepts of cooking, sexuality and romance.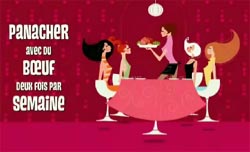 It was recently accepted into the Castelli Animati festival in Rome. The second is 'L'uomo del Meteo' (Mister Clouds), which is animated in Flash along with photo elements.
I also recommend watching a few other pieces from the Italian duo. Their short for the French Effet Boeuf campaign is just gorgeous, and their opening title for the film 'Edizione Straordinaria' is also worth a watch.
According to the German design site,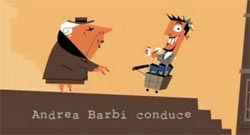 Novum, the Delicatessen team's process "involves scanning in the pencil drawings of the figures and storyboard, processing and colouring them in Freehand and then transferring them into Flash for animation. Subsequently the film sequences are exported in Quicktime Video. The last step was to convert this into the TV format PAL, and to add the sound track."
Delicatessen is rep'd by Kate Larkworthy Artist Representation in New York City.