Eric Pringle and The Pringle
Eric Pringle is currently a Flash Director on 'Foster's Home For Imaginary Friends,'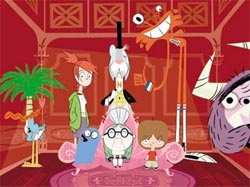 working out of Cartoon Network in Burbank, California. He's amongst the group of pioneers who, 5 years ago, helped Flash animation rise out of the shadows of crappy, online shorts. He worked on the first season of 'Mucha Lucha' and then went on to give birth, along with Matt Danner, to his own short, 'Go! Go! Moba Boy!' which won the first season of Warner Bros. Cartoon Monsoon competition. His efforts were rewarded last year with an Annie nomination for his work on an episode of 'Fosters.' His attention to detail and eye for quality animation has helped many artists rise to the challenge, and that's exactly what today's post is about.
On his own dime, Eric, or as he's known by his friends 'Pringle,' has created a home-brew Flash class, which outlines many of the standard Flash animation methods used around the world, but also several that have been developed by he and his co-workers. For instance, Pringle created 'The Pringle,' which might not make your animation any better, but it will keep you from tossing your monitor out a window.
'The Pringle' rose out of necessity. Often times,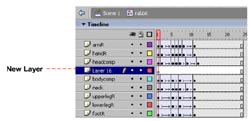 animators want to 'flatten' an element on their timeline. Whether it's a head-comp or an entire character, it's often much easier to compress many layers into a single symbol, so these elements can be manipulated as a group. It also makes for a leaner, cleaner workspace. Artists can use folders to clean up their workspace, but folders don't offer the ability to manipulate the contents as a single graphic or movie clip. Flash artists have been 'flattening' their work for years, but 'The Pringle' allows you to do it much quicker and with perfect accuracy.
Pringle was nice enough to lend Cold, Hold Flash his chapter on 'The Pringle,' which we now share with you. (Okay, now is the time where everyone should go into the Comments section and start begging Pringle to give us more chapters from his Flash book. Not now! He's watching. Okay, now).