G4′s Newest Friend SheeZaam
The G4 Channel has been steadily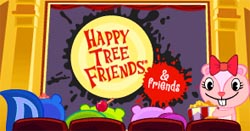 adding more animation with each month. It started this summer with the announcement that they would begin airing episodes of 'Happy Tree Friends.' More recently, this endeavor has turned into 'Happy Tree Friends and Friends,' a block of animation that features a variety of shorts licensed from around the world. It airs at midnight in most parts of the US, and then repeats in the wee-hours, and tonight at midnight, a new Flash series is premiering. 'SheeZaam' is the brainchild of Obie Scott Wade, a multi-talented, one-man-thinktank who runs a company called Obieco. Not surprisingly, Obie wrote, directed and produced the pilot –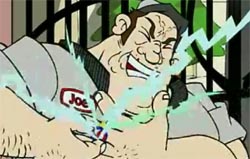 and he's also the voice of Frank, the horny bar buddy. 'SheeZaam' follows a garbage man who finds a superhero power ring in trash that was intended for a woman.
The pilot episode was animated by Animax Interactive, and yes it was created entirely in Flash. I caught a sneak preview last night, and I can say without reservation that 'SheeZaam' goes where no show before it had dared. But not in a dirty way. Congrats to Obie and to Michael Bellavia and the team at Animax.
I should also take this opportunity to tap the talented audience that haunts these halls. G4 is seeking more shorts to add to the 'Happy Tree Friends and Friends' roster. So polish off your latest piece, and head over to the G4 site for more details.