JibJab's 2-0-5 Goes Live
Around the world, TV watching still seems to have a slight edge over Internet usage.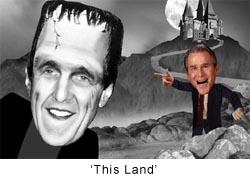 You wouldn't believe this fact, however, if you tracked the recent successes of JibJab. Take 'This Land,' their wildly-successful, animated political satire, which was viewed online by about 80 million people, give or take a country or two. In 2004, CNET.com pointed out that this 2-minute short was viewed by more people than the audiences of the Democratic and Republican Conventions COMBINED.
But Gregg and Evan Spiridellis , the brother duo behind JibJab, didn't take this as a sign that TV was dead. Just the opposite. The brothers instead visited their new friend Jay Leno over on 'The Tonight Show' and premiered their latest shorts, paying homage to the broadcast medium that once had no equal. But tonight, as Gregg and Evan go back for their 5th appearance on Jay's show, they can't but see the premiere of their latest short, '2-0-5,' as anything other than a kick-off party. Jay Leno's 5.5 million viewers will surely be well-appreciated by the brothers Spiridellis , but the 30 or 50 million viewers they'll reach online has got to be the real gravy.
It's one of the many paradigm shifts we've expected since the late 1990′s, so this should come as no surprise. Regardless, it's impressive when you consider that Gregg and Evan do it all with a team that could fit in a Hummer – the new, smaller one.
Gregg and Evan recently sat down at their unmarked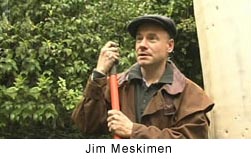 Santa Monica studio and joined Cold, Hard Flash for a brief interview. We discuss the inspiration for their new short '2-0-5,' the political leanings of their audience, and a fantastic voice actor named Jim Meskimen.
If you're not familiar with Jim, I'll quickly spew – he's a sought after Hollywood voice actor with recent credits on 'Boondocks' and the 'Fantastic Four' video game, a talented painter, an improv comedian and an impressionist with a wide-reaching range. And get this – Jim is also a closeted cartoonist, having spent a few years designing characters at Rankin/Bass, including a stint on the 'Thundercats.' Okay, end of spew – and on to the interview:
AARON SIMPSON: How did the idea for '2-0-5′ come about?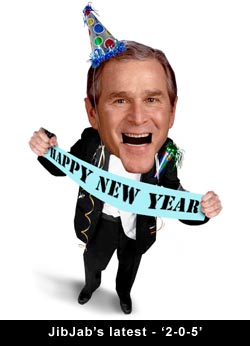 JIBJAB: Back in the summer, we came up with the idea of doing a fast paced year end 'round up' that touched on all the events and issues of the year. By the time we started working on it, it was clear that the biggest story was how far the President's approvals had fallen compared to where he started the year. From Katrina, FEMA, bird flu, insurgents, Cindy Sheehan, Scooter Libby, Tom Delay – it's been a tough year for the President. Given it was a year end piece, we quickly honed in on a banjo ripping version of 'Auld Lang Syne' and then morphed it into a medley with 'Turkey in the Straw.'
AARON: How many times have you guys premiered a short on the 'Tonight Show with Jay Leno?'
JIBJAB: This is our fifth piece that will play in full on 'The Tonight Show.' They have been so incredibly supportive of our work. We're still pinching ourselves.
AARON: About how many artists contribute to a typical JibJab short?
JIBJAB: Once Gregg and I lay out the whole piece, it is typically me and two to three other artists on the piece full time until it is complete. We also have a network of talented friends that come in and do bits and pieces but the average production has about 5-6 sets of hands on it.
AARON: Where do you get the photos of the various political figures for your shorts?
JIBJAB: We have become experts at finding public domain images of political leaders on government websites. The Library of Congress, State Department and Wikipedia are excellent sources of public domain images.
AARON: Do you find that the fans of your animated shorts tend to lean one way or the other politically?
JIBJAB: Not at all. I think the aspect of our work people appreciate more than anything else is the lack of a partisan motive. We work very hard to keep the politics out of our political shorts. We both recognize that both political parties are capable of mind blowing stupidity and it's our job as satirists to point that out.
AARON: Not long ago, you backed off your self-imposed bandwidth restrictions for your animated shorts. Has lifting those restrictions effected your work flow?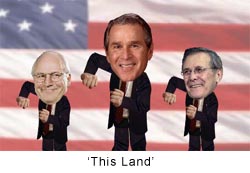 JIBJAB: Lifting the bandwidth constraints was pure heaven! When we started JibJab back in '99 we were hyper aware that most people would not wait for a monster file to load before clicking elsewhere. Given the fact that the majority of users were on dial-ups we were always forced to sacrifice the art for the bandwidth. 'This Land' was the first project that we threw our bandwidth constraints to the wind. Gregg and I decided that enough people were on high speed connections and that we should just concentrate on telling our story the way we want to tell it. When we wrapped production on 'This Land' the file was almost 13 MB and it took me two days to get it under 4.
AARON: Your animated shorts have been getting increasingly complex. Are you still able to produce these shorts in Flash, or do you incorporate other software into your pipeline?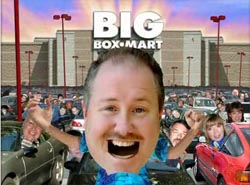 JIBJAB: We've been using
After Effects and Final Cut Pro for the past few shorts. For 'Boxmart' we used AE in almost every shot due to the fact that we had to composite over 1000 audience members into the short. It also allows us to do things with the camera that would be impossible to do in Flash. Flash is an amazing tool in a lot of ways but compositing and editing are not on the list just yet. We do however use Flash for all of our initial timing and layouts. We cut a scratch track (which is usually Gregg and I singing into a crappy mic) then pull it right into Flash and time the whole piece. And of course all of our character animation is done in Flash.
AARON: You've had a long working relationship with voice actor/impressionist/singer Jim Meskimen. How did you guys first team up?
JIBJAB: We were introduced to Jim Meskimen through our attorney, who was a high school friend of Jim's and a long time supporter of his career. Our first piece with Jim was 'Ahnuld for Governor.' We realized immediately that his acting talent and vocal range are out of this world. When we called him in for 'This Land,' which was our next project, he slammed it out of the park. We've been working together ever since.
AARON: What type of projects can we expect to see coming out of JibJab in the next few years?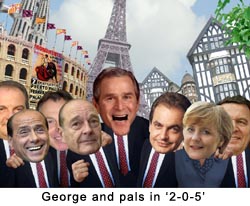 JIBJAB: We are obsessed with the possibilities of online entertainment these days. The Internet has given us the opportunity to find a large audience and connect with them one-on-one in a way that has never before been possible for a small independent studio like JibJab. In three years I hope you will find us doing some of the most innovative, interactive entertainment out there. That being said, we came to LA with a dream of making a movie and, if all goes well, we'll be on our way to accomplishing that dream in 2006. Stay tuned!