Mucking About With MukPuddy
I've been meaning to post about Mukpuddy for weeks now.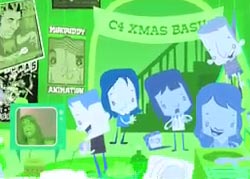 They're out of New Zealand, which has about the same size population as Los Angeles (well, 10.5 million if you count Los Angeles County). There's 3 of them down there kicking out slick design and smooth animation, all of which can be seen over on their website. Don't miss the 4 holiday Idents they produced for New Zealand's C4 Music Television – 'Snowglobe' – 'Fireplace' – 'Snowman' – 'Boy and Tree.'
I recently interviewed 'The Muks' about their C4 gig, and you can read it below for $1. Okay, you owe me.
AARON SIMPSON: How many C4 spots did you produce?
MUKS: We did 4 in total, we had pitched 5 to the channel initially but they didn't have the budget (same old story!!).
AARON: Was all of the work done in Flash?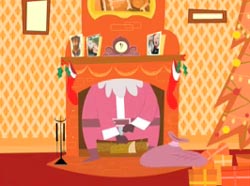 MUKS: Yes, apart from the initial design sketches and storyboards, everthing else was made and animated in Flash.
AARON: How many artists combined to produce the work?
MUKS: There's just 3 of us, Alex Leighton, Ryan Cooper and Tim Evans.
AARON: Who is the designer?
MUKS: Alex does most of the design work (as in the case of these C4 idents), but we do put our ideas together more often than not to try and get something different.
AARON: Do you use pencil layouts and ink in the computer, or do you vectorize inks?
MUKS: We use pencil layouts, seeing as we're all trained in classical animation, things never seem to look good if you don't sketch them out by hand first.
AARON: Have you guys dipped into Flash Professional 8 yet?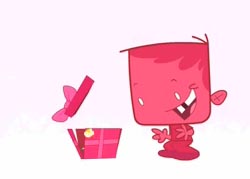 MUKS: Yeah, all of those idents were done in Flash 8. It seems to be quite an improvement over Flash 7 but, unfortunately, it still seems to be plagued with the same bugs as previous versions.
AARON: What's your process of getting your Flash work out to tape for TV broadcast?
MUKS: Lately we've been using Flashants SWF2Video. It basically means we don't have to worry about movie clips or scripting.
AARON: What's the Flash animation community like in NZ?
MUKS: Well, the New Zealand animation community in general is pretty tiny, and the Flash community even smaller. Most of the Flash work down here is graphic stuff like websites and such, and most people find it hard to believe people are actually making cartoons with it.