Samorost 2 Launches
Jakub Dvorsky has done it again. The follow-up to Samorost,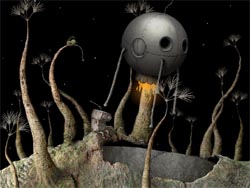 the wildly successful Flash-animated game, has launched. Samorost 2 is a continuation of the original, which takes place in space, on a mossy-log planet. If you haven't played it yet, I recommend this game to just about anyone, as you navigate through the game with only your mouse and your mind. It's engaging, haunting and highly-addictive. The design and character animation is by Vaclav Blin and the ethereal music is by Tomas Dvorak.
This time around, Jakub and his team at Amanita Design have arranged a business plan, hoping to entice the audience to pay for the second half of the experience. The price is currently set at $9.90, and Jakub has also built in a store for t-shirt sales.
Cold, Hard Flash interviewed Jakub earlier this year about his experiences, and you can read about how he achieves the unique look in his projects.