Pil Animation Gets Mad
About a year ago, you may have spotted a link to 'Gaigin – The Tail of a Warrior.' It's a very well produced short out of Pil Animation in Israel. Well they've been hard at work in the ensuing year, and I've just been tipped off on a couple of their new projects.
First, check out 'The Mad Scientist Show,' created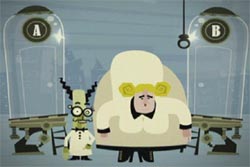 by Oren Mashkovski and MYSH, the same duo that created 'Gaigin.' Here's the direct link to episode 2 (9mb – Windows Media).
And second, have a look at Pil's animated bumpers for Channel 24 – The Israeli Music Channel. I like this one (2.3mb Windows Media) in particular. All of the spots were animated frame-by-frame and drawn straight into the computer using both Flash and Aura. The BGs were created in Aura and Photoshop. You can see the rest of the spots over on the Pil Animation homepage.