Edgar & Ellen's Flash Follies
'Edgar & Ellen' are hoping to haunt their way into your house, one way or the other.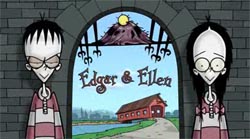 There's the book series, the Nicktoons Shorts and now the feature-length movies are being planned. Star Farm Productions, the Chicago-based entertainment company, surely sees a 'Harry Potter' trajectory for this book series published by Simon & Schuster, and I'd imagine they're on the right track.
'Edgar & Ellen' follows the adventures of a set of twins who torment the people of Nod's Limbs. Nicktoons recently got into the game, airing 12 Flash-animated shorts that were produced by Studio B Productions. According to Screenmag.com, "The whole process took about five months to complete, including both creation and editing. Each short averages out to about two minutes."
You can watch two of the shorts over on the 'Edgar & Ellen' website – 'Winter Blunderland' and 'SPF Twins.'