February 23, 2006
by
admin
Flash Animated Mustache Contest
I missed the boat on Mike Hollingsworth's clever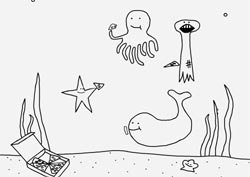 short back in August of last year, but it's worth another look. It's titled 'Mustache Contest' and it features the creatures of the deep – a starfish, a squid, a whale and an octopus. Mike is an animator living in Los Angeles, and he and his friend Brittney Crump started Baby Bird Comics. 'Mustache Contest' grew from a comic, and has faired well over at Newgrounds.com.
I spotted Tom Kenny (voice of Spongebob) in the credits, and it makes sense, as I've read that Mike is also a comedian – like Tom. Or we're all getting ink squirted in our faces, which is entirely possible.
Spotted at transbuddha.com.
Related Posts
November 19, 2014

by

aaron

At this weekend's Animation Breakdown event, Newgrounds takes over at 10:30 pm on Sunday night. Hosted at Cinefamliy on Fairfax Avenue in Los Angeles, the …

November 3, 2014

by

aaron

In 2004, I was working at Warner Bros. TV Animation, hoping to convince the senior management that Flash was a viable TV production tool. Flash …

November 25, 2013

by

aaron

Salad Fingers is nearly 10 years old. David Firth first came to fame by way of the Flash-animated project on sites like Newgrounds back in …

With nearly 100 million views in a single month, Ylvis' breakout track The Fox is undoubtedly a phenomenon. The hook "What Does The Fox Say" …