The Reality of Camp TV
The creators of 6teen, the Canadian show that recently sold to Nickelodeon,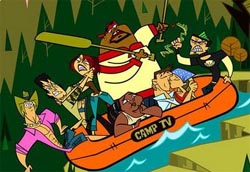 have begun working on their next project. Tom McGillis and Jennifer Pertsch of Fresh Animation have created a new project called 'Camp TV,' and they've put their project in the capable hands of Todd Kauffman and Mark Thornton at Neptoon Studios. It's being billed as a reality show send-up that dumps a group of teens at a dingy camp in Canada.
Joining Todd and Mark on this Flash-animated project are some big names in the Flash community, including Jared Deal and Joel Trussell, the man behind the amazing 'War Photographer' video.
They're producing a 2-minute promo, and then Todd and Mark will stay on to direct 26 episodes for Teletoon. Follow the production over at the Neptoon Studios blog – great looking stuff, guys.