February 24, 2006
by
admin
Shuriken Goes Live in Europe
'Shuriken School' has arrived. It's one of the newest,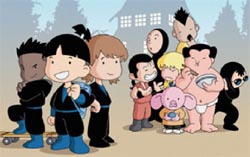 and best-looking Flash animated shows on TV. Xilam, a Paris-based animation studio, has partnered with Jetix in Europe and Nicktoons in the US to bring us a show that "follows the extraordinary adventures of 10 year old hero Eizan Kaburagi and his friends during their first year at an under-funded ninja school."
Below is a video clip from the official show website.

You can also download three SWF videos here – 01 02 03.
Other vector-based SWF files can be found here.
Related Posts
February 26, 2009

by

aaron

If you hadn't already noticed, Disney's Jetix network has relaunched as Disney XD. New series have been added to the slate including a couple digital …

A new Flash-animated TV series is ready to claw its way into your house. Kid vs Kat is a new comedy series aimed at children …

December 8, 2008

by

aaron

Produced by Breakthrough Animation, Jetix Europe and TELETOON, Jimmy Two Shoes was all the buzz at this Fall's MIPCOM Junior event, booking the most screenings …

Jayson Thiessen, the talented animator behind Chubby Dee (MOV), spent much of 2006 co-directing Pucca at Studio B for Jetix Europe. The title sequence for …