Flashforward Film Festival 2006
I'm up in Seattle for the 2006 Flashforward Conference,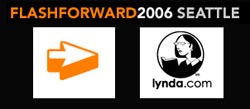 and this year's Film Festival is shaping up nicely.
CARTOON CATEGORY
'A Fairly Reliable History of British Film,'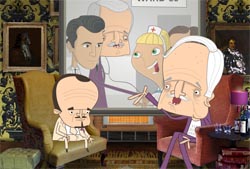 is a series of six shorts featuring an imaginary British actor named Keith Guttenberg, whose been in nearly
every movie ever made. In each episode, he teams up with Luke Lucas, and together they trip through time. The series was written and directed by Adrian Hennigan and produced out of Randommedia in the UK. The Flash animating was handled by Sam Cundall.
Sunday Pants was Cartoon Networks' short-lived shorts project.
Some of the interstitials and promos were as cool as the shorts, and the series produced by Wefail were no different. Jordan Stone and Martin Hughes are the brains behind Wefail, and Sofake, which they run together having never met face to face. The duo live 5,500 miles apart, but their work doesn't show it.
What more can we say about 'littleFoot?'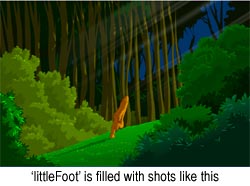 Adam Phillip's Brackenwood series received a much-lauded new installment last year, and the launch was well covered by Cold, Hard Flash with a lengthy interview.
STORY CATEGORY
And in the Story category, you'll find The Zimmer Twins,
a Flash-animated project that leaves the ending up to the audience. The project was created for TeleToon and it was produced by zinc Roe Design. Animating on the project were Les Solis, Lou Solis, Ken Cunningham and Craig Marshall.
Winner will be announced at tonight's event, so check back here for the results.