JibJab's Flashforward Presentation

Last week, Evan Spiridellis and I spoke at the 2006 Flashforward Conference, an event produced by Lynda.com. The title of our session was JibJab's Animation Process and How a Small Studio Can Reach a Big Audience, and we spoke for just over an hour. Evan walked the audience through the JibJab animation process – from animatic to animation to finished product. I presented several animators and small teams that are reaching big audiences, first which was JibJab, who had over 80 million people watch 'This Land' and 'Good to be in DC!' during the 2004 election. Here's the slides from my presentation detailing JibJab's recent successes.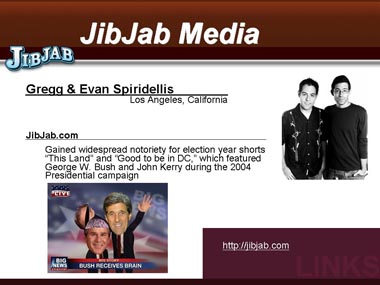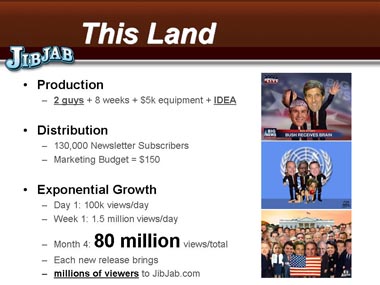 Back then, it was really 2 guys doing it all, and this is the story I repeated many times over during the night.
Next I spoke about Jennifer Shiman and her '30 Second Bunnies Theatre,' the Flash-animated series currently airing on Starz! on Demand. As many of you know from reading the CHF interview with Jennifer, she pretty much a one-woman band, writing, animating, and directing alone, and she gets over 1.8 million unique views a month at her angryalien.com site.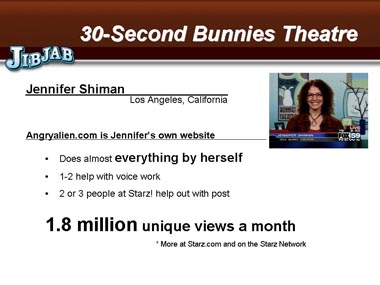 Amanita Design was the next studio featured. This 2-man shop out of Brno, Czech Republic is creating viral click-along games like Samorost 2 and linear music videos with a very small team. Jakub Dvorsky, the founder, gets over 500,000 unique views a month at his site.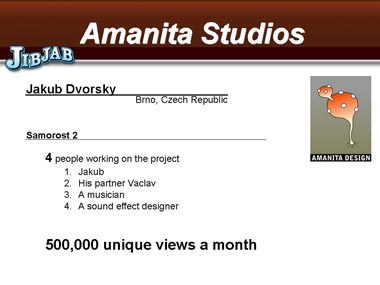 Weebls-stuff.com is the playground for Weebl, the British animator. He and a small cadre of animators create 'Weebl & Bob' and other funny series like 'Magical Trevor.' They get a staggering number of cartoon views every month – over 5 million!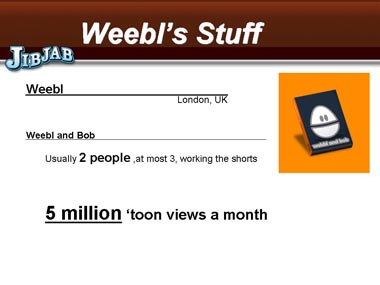 Bernard Derriman animated the music video for TISM's 'Everyone Else Has Had More Sex Than Me,' which went on to become a hugely viral video. He animates alone, and he gets over 50,000 unique visitors to his site, arjandpoopy.com, every month. I completely missed posting about Bernard's holiday 'Arj and Poopy' episode, but you can still see it here.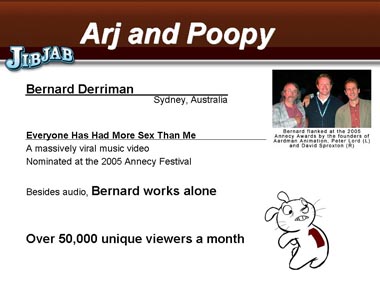 Adam Phillips, who happens to be an old working buddy of Bernard's, won his 3rd Flashforward festival trophy for his Flash-animated short 'littleFoot.' He too is a one-man Flash army, writing, directing and barely sleeping while crafting his Brackenwood series. In a good month, he gets over 300,000 unique visitors to his site.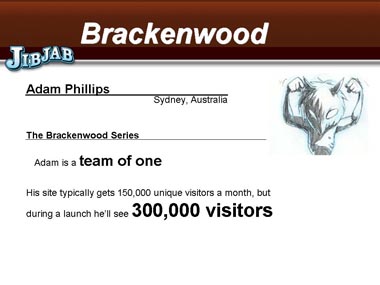 James Farr, the creator of 'Xombie,' is currently in production on a direct-to-DVD feature version of his Flash-animated series. All by his lonesome, deep in the heart of Tulsa, Oklahoma, James has written, animated and produced 7 online 'Xombie' shorts, and now he's teamed up with Wetsand animation to create the long-form version. He has over 1 million subscribers to his 'Xombie' mailing list.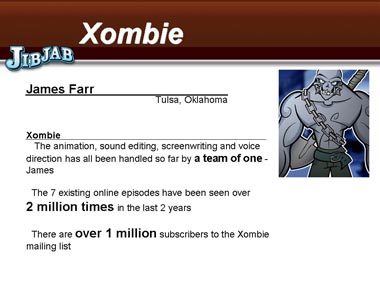 Laith Bahrani's 'Low Morale' series brought down the house during our presentation. We screened episode 9, and the crowd went nuts. Very funny stuff. Laith is the sole animator on his shorts, and he's welcomed over 800,000 visitors to his site since 2004.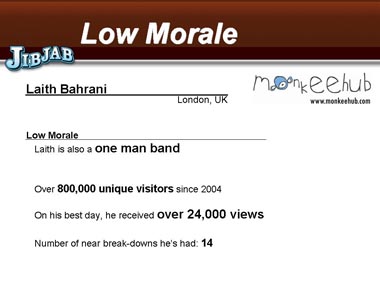 And last, but not least, we talked about 'Queer Duck: The Movie' which is due to wrap production sometime soon. It's a Flash-animated feature project penned by Mike Reiss, a Simpsons writer, and Xeth Feinberg is heading up the animation effort. He's working with a team that's usually smaller than 10, and he's been in production since last summer.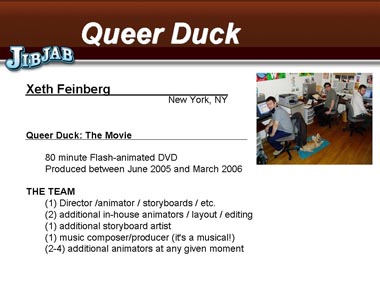 While it's not always about the size of the audience, it's still impressive to see so few reaching so many. Thanks to everyone for contributing to our presentation, and to Lynda Weinman (of Lynda.com) for hosting us up in Seattle.