Los Angeles Flash Users Group
I visited my first Los Angeles Flash Users (LAFU) event a couple weeks back, and it was packed. It was held at Almer/Blank on March 15th. Why? Because one of the founders of Almer/Blank, R Blank, also founded the LAFU. And if you didn't know, Almer/Blank is an interactive media company that received a nomination at the 2005 Flash in the Can Awards for their IKEA PAX Wardrobe project. Here's a picture snapped at the event.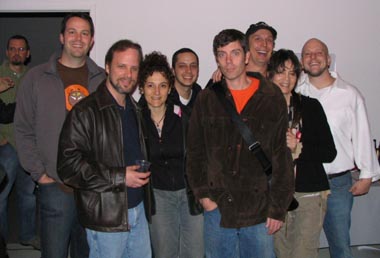 (L to R) me, Al from Animax, Silvia Pompei, Chris Charlton, Warren Fuller, Tim Jones, January (?), and our host, R Blank
Most of the discussions that night were about websites and media players, but on April 19th at 7pm it's all about the animation. The event is called Masters of Flash Character Animation, and while I'm surely no master, I'll be joined by Sandro Corsaro and the Animax gang as we discuss the current state of Flash animation.
And don't miss Chris Georgenes' Flash 8 Character Animation presentation on April 7th and 8th at Almer/Blank in Venice, California. If you use the discount code "chf" you'll receive $100 off the admission price.
And lastly, if you've got the itch, search for you local Flash User Group (FUG) or Macromedia User Group (now called Adobe User Groups), or see below for one near you.
New York
San Francisco
Vancouver
Edmonton
London
San Diego
New Delhi
Toronto
Orange County, CA
Minnesota
Glasgow
Vermont
Rochester
Houston
New Zealand