Moses Gets His Bling On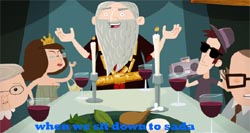 Sigh. I'm now the unwitting accomplice in a viral effort sprung by ThinkFilm ('Murderball'). For the upcoming film 'When Do We Eat?,' they've released a short, Flash-animated film that's surely aiming to get the buzz going. Well, for what it's worth, I'm here to help. This short is rather funny, and looks and moves well too. It's either called 'Dayenu' or 'Passover Song,' and I have no idea who produced it.
The movie itself features Michael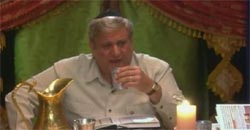 Lerner (from 'Elf' and 'Barton Fink') and Jack Klugman of 'The Odd Couple' and 'Quincy' fame. It will hit theaters April 7th, right in the middle of Passover, which starts on April 3rd and lasts a week. It's rated R, and features an ecstasy trip and a prostitute. Mazel tov!
A big thanks to Adam Sacks for the story tip.