Augenblick Releases Golden Age
Aaron Augenblick, the founder of Augenblick Studios, recently created and directed a show for Comedy Central's broadband channel Motherload. 'Golden Age' reveals "the shocking true stories of the world's strangest cartoon characters," according to a press release.
The first episode,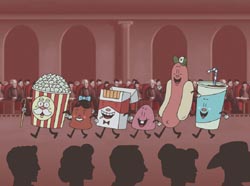 titled 'Marching Gumdrop,' launched on May 8th. It follows Jerome, one of the singing candies featured in the "Let's Go Out to the Lobby" theatrical pre-roll film strips. Sadly, his career only went downhill after this.
For the last few years, Augenblick Studios has been hard at work for another Viacom company, MTV2. They've been producing the animated content for MTV2′s cult hit 'Wonder Showzen.' Almost all of this work is produced in Flash, as is the case on 'Golden Age.'
Aaron co-wrote the series of 10 episodes along with Tim Harrod, a writer whose credits include 'Late Night with Conan O'Brien' and 'The Late Show with David Letterman.'
Head over to Motherload to watch episodes of 'Golden Age.'