Animator vs. Animation
I wasn't going to post about this short,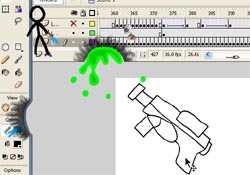 and simply toss it into the message boards. But now that I've received a good 10 emails pushing it, I think it's gotta go up.
Plus – it's pretty damn cool. It's Alan Becker's exceedingly clever Animator vs. Animation, which is just crushing over at Newgrounds.
Thanks to everyone who emailed – this one's for you.
Related Posts
Alan Becker is expanding his Animation vs Animator franchise. His latest effort will be called Animation vs. Minecraft, and by the time he's finished it'll …

November 19, 2014

by

aaron

At this weekend's Animation Breakdown event, Newgrounds takes over at 10:30 pm on Sunday night. Hosted at Cinefamliy on Fairfax Avenue in Los Angeles, the …

November 3, 2014

by

aaron

In 2004, I was working at Warner Bros. TV Animation, hoping to convince the senior management that Flash was a viable TV production tool. Flash …

After a successful crowdfunding effort back in 2013, Alan Becker has delivered the latest installment of Animator vs. Animation. The series, which features animations that …