Ghostbot Delivers Two
Ghostbot has more Flash animated goodness for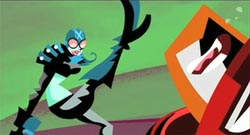 your eyes to feast upon. Roque Ballesteros, Alan Lau and Brad Rau are back at it, this time with a music video and a new Esurance TV spot.
The music video is something the Ghostbot gang mentioned in their CHF interview back last summer. It's for the band Five Iron Frenzy and the song is called 'Wizard Needs Food Badly.' It's currently airing as the second half of the Channel Frederator podcast (M4V), bumped up against a great looking short called 'The Dan Danger Show!' by Butch Hartman & Steve Marmel.
Ghostbot came through again for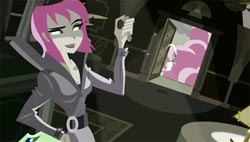 Phil Robinson over at Wildbrain, delivering another delicious Esurance spot called 'Proof.' The company seems to like them so much, they've dedicated a section of their website as a shrine to Ghostbot's work. An interesting note here – this is their first project completed entirely without paper. The Ghostbot gang has gone digital, designing and animating on Cintiq's. This info was shared over on the Ghostbot blog, where you can read more about the production, and who did what.