Los Campeones de La Lucha
Eddie Mort and Lili Chin, while still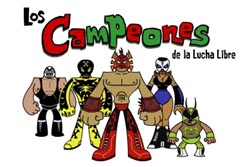 young and vibrant, could almost be called grandparents of Flash animation on TV. The medium was already booming on the web when they created '¡Mucha Lucha!' for KidsWB! but they were one of the first few teams to take the Flash plunge on a TV production.
After 'Mucha' wrapped, Eddie and Lili kept Fwak! Animation together, and have since partnered with BouncyNet to produce a Flash-animated feature for TV Azteca in Mexico. It's called 'Los Campeones de La Lucha,' and while it's feature-length, Eddie adds that "this ain't no Over The Hedge. More like Under The Boardwalk; we have no major production studio backing us, and this is gonna be a maverick production in the truest sense." That's the indie spirit! Get's my blood going just typing about it.
Several still images have been published on the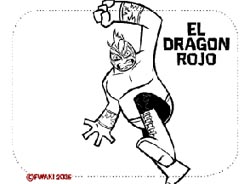 project's official MySpace page, and Eddie and Lili have written up their efforts on their own blog in several posts: here, here and here.
Eddie's a member of these boards, so perhaps we can get a few more thoughts from him over in the Features section of the message boards.
There are no comments yet, add one below.