Nontzeflash 2006 in Bilbao
Last month in Spain was the Festival de Cine Fantástico de Bilbao 2006. CHF covered last year's festival,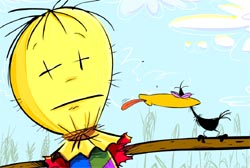 in which Mr. Coo took 3rd place in the Nontzeflash Animated Film competition.
This year, 'Bendito Machine' took the first prize. This short by Jossie Malis is also up for an award at Annecy.
Several other Flash-animated films in the competition are worth a watch, including:
El naufragio del A4 by Javier Encinas
El provocador by Gabriel Ignacio Cortina
PLOK-The final David Berlioz
The NU adventures by Nacho Rodriguez
Fuggy Fuggy by the Brothers McLeod
Just Say I Didn´t Know by Joe Corrao
But don't take my word for it – go and watch all of the 174 submissions at the competition's website.
Related Posts
Barcelona-based animator Roc Espinet recently finished a Flash-animated tribute to springtime, that encourages us all to welcome in warmer season (at least in the Northern …

The Brothers McLeod have pulled up a bar stool next to Purity Brewing Company. Together they've concocted one of the most unique Western talees ever …

The Brothers McLeod have been pushing out the boundaries of experimental animation lately. Last year they produced 365, which saw them created 1 second of …

November 27, 2013

by

aaron

Spanish-animator Eva Figueroa López merged the lexicon and structure of popular games with linear storytelling to create Noclip. This Flash-animated short invokes games like Dance …