Swallowtail Butterfly
It's officially BoBo&ToTo month!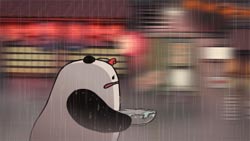 Only six days after posting about 'Breath,' there's more BoBo&ToTo news on the way. It appears as if July 3rd will be launch of a new short called 'Swallowtail Butterfly,' that looks more elaborate and dramatic than any before it.
The production team at B&T Studio have released a teaser promoting the launch which can be seen over at XXBT.com.
Related Posts
September 18, 2012

by

aaron

The Song For Rain is Zheng Yawen's graduation film from his studies at Communication University of China. Yawen used Flash and TVPaint along with Photoshop …

After more than a half-year of production, Qian Hao has completed his latest university project, a music video for the Vektormusik track leap2. Quan had …

February 10, 2012

by

aaron

A Shanghai-based animated who goes by the handle Earthsaver produced this Flash-animated film about a gradute student's nightmare. We meet him in class, which shifts …

September 19, 2011

by

aaron

Hong Kong-based Nutmeat Studios produced this striking PSA using Flash and After Effects. The team used what appears to be some rotoscoping techniques along with …