2006 Comic-con Wrap-up
I spent two days at Comic-con in San Diego this past weekend, and witnessed one of most intense people-crushes I've ever seen. Ticket sales were actually halted on Saturday, with attendance estimates ranging from 125,000 to 150,000, up from 104,000 last year. As you can see in the photo below, the concept of a 'personal space bubble' was hard to come by.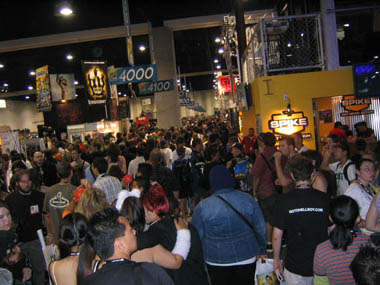 I was hunting down as many Flash animation names as I could, and using this event as a barometer, I can safely say Flash animation is a healthy industry. I met:
- One of the founders of independent animation company Net Hat Co
- the two chiefs of Titmouse Studio, Chris and Shannon Prynoski who premiered Metalocalypse
- Bob Boyle, who showed an episode of upcoming Jetix show 'Yin Yang Yo!'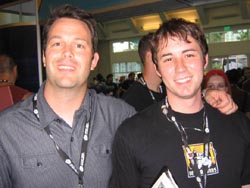 - George Elliott, founder of Elliott Animation, who are animating 'Yin Yang Yo!'
- Jorge Gutierrez and Sandra Equihua, the creators of Nickelodeon's 'El Tigre'
- Tom Fulp (photo) of Newgrounds and The Behemoth, who was showing of his new 2D platform game 'Castle Crashers'
- Brooke Burgess, whose 'Broken Saints' series is out on DVD August 1st
- The guys behind 'College University' and 'Dr. Shroud'
I've also posted about 20 photos from my San Diego adventure over in the Message Boards.