Crackers Over Pascal Campion
Pascal Campion's name needs to ring through these digital halls. He's extremely unheralded, and his body of work will keep you busy for your entire lunch break.
Pascal lives in San Francisco,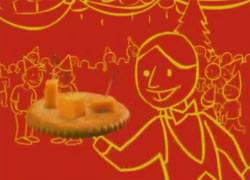 and he's one of the few top-notch directors at Bent Image Lab. He's done work for Ritz Crackers on several occasions, and one of the spots looked very familiar. I recalled seeing the Ritz 'Party' spot over at Aaron Stewart's page at Hornet Inc, and it's fun to see a different take on the same ad. Both seem worthy of getting the 'green-light,' and I'm suspecting both were done in Flash. Pascal's designs have subsequently become the look of the brand featured on the website.
Pascal's spot for PBS is so fluid and engaging,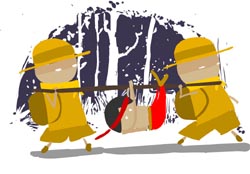 and his work with Chel White on the St. Louis Mills mall spots is snappy and fun.
But then you see the sheer bulk (click on 'animation') of his personal work, like his 'Boss Animations,' and you realize this guy is passionate AND persistent. His video for the They Might Be Giants song 'Mr. Smalls' is well worth a look, and his word-centric 'Catnip' short is award-worthy.
Don't miss Pascal's blog, which features heaps of his design work.
Thanks to Justin Balch for bringing Pascal into to my radar.