Jared Chapman Makes Robots
Jared Chapman, aside from helping Drawn become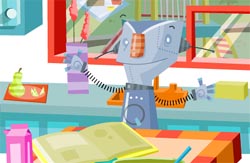 THE design resource on the web, works at Ignite Learning. His most recent project there is called Squibs, an educational DVD series featuring a whole heap of Flash animation.
Jared designed and animated a robot world that served to open each DVD in the series and it tied the whole series together. You can see a bunch of his character designs on Jared's new blog, and he's also posted a few backgrounds.
The designs are delicious, and the animation follows suit. Have a look at these walk cycles:
And lastly, Jared has posted a few full-blow scenes on his site – and here's one in particular in which the robots play catch and another in the kitchen.