Masterful Work for MSTRKRFT
Ron Doucet and Mike White of Collideascope Digital Productions recently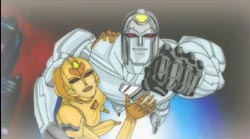 finished a music video for the electronic band MSTRKRFT. It's for the band's song 'Work on You,' and it's a gorgeous video, completed entirely in Flash. The team took advantage of Flash's ability to cycle and re-use, but there's also a great many traditionally animated shots that push this video over the top.

The production team drew on inspiration from 80s cel-animated shows like 'Transformers,'MSTRKRFT is the brainchild of Jesse F. Keeler (JFK) and Al Puodziukas (ALP). The production team included, among others, Derek Jessome, Jeff Knott, David Sourwine and animators Bianca Siercke and Rachel Morrison.The project was chronicled in a 2-part documentary that you can see below.
PART 1

PART 2
Collideascope was featured here back in January. Did I hear Mike call them 'Collidea-ma-scope' in the first part of that doc? Ron's award-winning, Flash-animated short 'The Chase,' was recently discussed in the CHF message boards.