Queer Duck Gets a Vote From Variety
'Queer Duck – The Movie'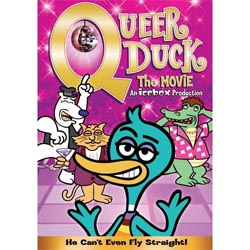 is due on DVD on July 18th, as reported here back in April. The DVD is currently available for pre-sell over at Amazon, and it's listing at $13.99 for 75 minutes of Flash-animated wackiness.
Variety, the entertainment industry news magazine, recently gave a strong review of the DVD, and said it "registers surprisingly vividly on the bigscreen, deserved a theatrical shot before its July 18 DVD release." Take that, Paramount! 'Golden Blaze' shouldn't be the only Flash-film to get a stab at the silver screen.
Alright, I'm off my high horse now, and I should probably give kudos to Paramount Home Entertainment for funding a feature-length LGBT cartoon. Either way, I would've loved to have seen this get a wide theatrical release.
Here's an excerpt from the
Variety review that give praise to Xeth Feinberg, the director, and his crew.
Tech credits are intelligently primitive. Feinberg and Richard Codor's unshaded, blocked-out character design unabashedly delights in pure two-dimensionality, while background artist Jon Ehrenberg's large monochromatic blocks of color (Salmonella's Restaurant awash in a coral hue) recall UPA abstraction or Maurice Noble's Frenchified backdrops for late Pepe LePew cartoons.
Xeth was inteviewed here at CHF back in November of 2005.