Dudley and Nestor's McShort
While Disney Feature Animation is in limbo-land,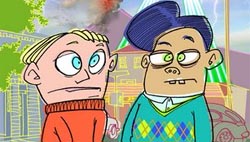 their TV divisions have quietly been picking up steam. The Shorty McShorts' Shorts
program is delivering some of the most eye-popping pilots in years, and Emmy-award winning designer Mike Moon was tapped to run Disney Channel's animated series.
Mike Roush and Dik Pose are doing their part. They animated 'Dudley and Nestor Do Nothing,' a new Flash-animated short that aired last month on Disney Channel. It was created by Wholesome Products, run by Stephan Holman and Josephine Huang, and I really like the bright-line BG look. And like several of the Shorty McShorts' Shorts, Tom Kenny, the voice of Spongebob, is in the cast. If I'm not mistaken, he's the voice of the headset guy at Mission Control.
Related Posts
The team at Curious Media handled this new Flash-animated short for Disney, featuring emojis that tell the tale of Frozen. It's a clever format, and …

Future Cinema is a London-based theater that specializes "in creating living, breathing experiences of the cinema." They've done Ghostbusters, Shawshank Redemption, Saturday Night Fever, and …

Chris Allison (aka Toonhole Chris) is at the controls on the latest weekly animated short. Today we're treated to a deleted scene from Disney's The …

November 15, 2013

by

aaron

It's A Small World, the animated series, is soon coming to an internet near you. Based on the 50-year old Disney theme park ride, the …