Ian Culbard Has Been Busy
Just when you think you know all of the great Flash animators out there, you stumble onto another. Well, it shouldn't have taken me so long – Ian Culbard, who hails from the UK, has been following this site and posting here for a while now. But then once he turned me onto a Golden Nuggets TV spot he animated, I was hooked. Then, about 2 days later, I'd finally gotten all the way through his body of work, and I was ready to share. So cancel your meeting, skip your class and turn up your volume. Ian Culbard has been busy.
We'll start with 'Death Metal,' a short film he made only a few weeks ago.
Next is a short Ian animated and directed called 'Dagmar's Friend,' which was written by Ian Carney.
Had enough? Me neither. Here's a trailer Ian made for 'Biteneck Beatniks,' a series he's working on with Curtis Jobling.
He's got another half-dozen projects in motion, including a series for the BBC based on Curtis Jobling's book 'Frankenstein's Cat,' a Dark Horse comic he drew in Flash, a TV commercial he can't talk about just yet, his own indie feature project 'Grimmwood,' for which he's hoping to incorporate some Swift 3D shots.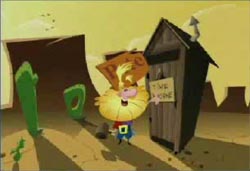 Whew! And lastly, I'd like to direct your attention over to the Message Boards where you can see the aforementioned Golden Nuggets commercial he did through Picasso Pictures. Great stuff, Ian!