16th Flashforward Film Festival
The 16th Flashforward Film Festival is complete. I just returned from the event in Austin, where Lynda Weinman handed out an armful of orange arrow trophies.
Below are some of the winners that featured outstanding Flash character animation.
CARTOON
No surprise here. Adam Phillips, the winner of the past 3 'Cartoon' awards, took home the hardware for 'The YuYu.' For a full write-up, head over to my review earlier this year.
INSTRUCTIONAL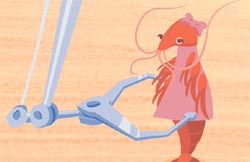 In the 'Instructional' category, GeeGuides snagged the top prize. This elaborate educational experience features a great deal of 3D animation, but also a fair amount of Flash animation, which was overseen by Tony Grillo's Flinch Studios.
MOTION GRAPHICS
In the 'Motion Graphics' category, M5 took the top spot, but Comcastic's exceptional, keyboard-controlled puppet application.
NARRATIVE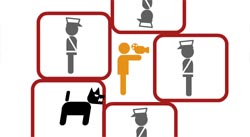 'The Ball of Bastards' walked away with the orange arrow in 'Narrative,' but 'Cinema Rules' is well-deserving of the nomination.
Congrats to all the winners and nominees!