Constellations Align in Ottawa
With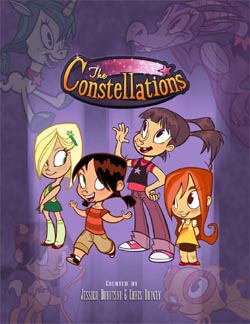 the 2006 Ottawa International Animation Festival only days away, we're getting a sneak preview. Each year at OIAF, one of world's premiere animation festivals, 2 show ideas are pitched in front of a panel of broadcasters as part of a program called PITCH THIS! In attendance are "potential buyers, financiers, partners and industry gurus."
This year, Dainty Productions, the production company founded by Chris Dainty ('The Ren and Stimpy Show') and Jessica Borutski ('I Like Pandas') are delivering a 10 minute pitch for their show called 'The Constellations.' The show "is about four best friends who visit us from the stars. By night they light up the sky as star constellations but by day they turn into their 'mythical constellation' pre-teen girl forms." The two have been keeping a faithful production blog that features several sketches, layouts, logos and photos of themselves, and below is their pitch clip, which was animated entirely in Flash.

It's also worth noting that Chris' Flash-animated short, 'Emma Graves,' which can be seen below, will be screening at OIAF on September 24th.

The other pitch being
presented this Thursday is titled 'Jersey Fresh,' a Flash-animated series created by Stephanie M. Yuhas that follows "the Wiccan Chicken, a tree-hugging, vegetarian pacifist who happens to be the son of the Devil – The New Jersey Devil."
Good luck to both teams!