September 25, 2006
by
aaron
McLeod Brothers Pie PSA
Greg and Myles McLeod,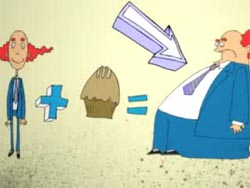 known as The Brothers McLeod, recently released 'Danger Pies.' It's an unreleased PSA for the BBC which was animated for a web feature on that very topic. The BBC never used it, so it's now ours to watch! The short was produced in Flash and then the brothers added a film effect in After Effects.
If you haven't gone and watched parts 2 and 3 of their series 'The M Man,' you're missing out.
Related Posts
Our sister site Lineboil featured some animation from the BBC Science Club back in April, and I've just discovered that some of this work was …

The Brother McLeod were recently hired by BBC Learning to produce a series of 22 shorts that help youngsters sort out their math skills. The …

January 27, 2011

by

aaron

Miss Marble is the title of the latest episode of the Brothers McLeod's series Sticks. This episode is a proper murder mystery set in a …

December 6, 2010

by

aaron

Seb Burnett designed and directed this new pilot for a BBC science series. Peculiar Patents was produced for WONKY Films by way of BBC Scotland, …