September 26, 2006
by
aaron
Powerhouse Gets Up To Speed
Powerhouse Animation,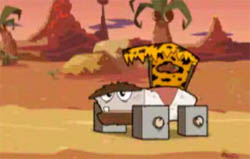 hailing from my new favorite city, Austin, recently produced a Flash-animated multimedia ad campaign for The Central Texas Regional Mobility Authority. Whew!
Now, Brad Graeber and his crew created three 1-minute commercials, a 1-minute movie-theater ad and a 3-minute viral music video and the project website, which is hosted at Getuptospeed.org.
Have a look over at YouTube:
Related Posts
November 15, 2013

by

aaron

It's A Small World, the animated series, is soon coming to an internet near you. Based on the 50-year old Disney theme park ride, the …

October 29, 2013

by

aaron

The Powerhouse Animation are huge fans of the University of Texas football team, so they jumped at the opportunity to create an animated campaign that …

September 25, 2012

by

aaron

Following up on their Dave Chappelle animated episode, Powerhouse Animation delivers you to ringside seat for an NBA Smackdown. It's the latest episode of true …

September 13, 2012

by

aaron

Austin's Powerhouse Animation brings Dave Chappelle to life in animated form in this new short for Bill Simmons' Grantland. It's a retelling of a tale …