Conan Nabs Pale Force for NBC
Jim Gaffigan is the funniest comedian on the planet.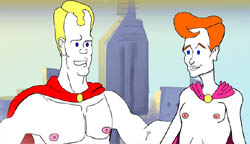 I've been following his work for years now, and I've even created a character in an animated series I'm developing with his voice in mind. Okay, it's out there. Now we all know I'm extremely biased towards this story, but I'm not alone in thinking he's funny. Conan O'Brien, the host of Late Night with Conan O'Brien, found Gaffigan's animated 'Pale Force' pilot so funny, he decided to buy the property. It centers on a pair of pale superheroes that fight crime with the fair-skinned powers. Now NBC has ordered 20 Flash-animated episodes of the series, which will air Friday nights on Conan's show, NBC.com and on video-enabled Sprint phones.
The series was co-created, directed and and written by Paul Noth, a cartoonist whose work has appeared in the The New Yorker. Jim and Paul teamed up with Kapara, an Israel-based studio, to produced the episode order. Ynetnews in Tel Aviv picked up the story and explained how Kapara ended up working alongside Gaffigan and Noth.
**** UPDATE ****
In fact, the 20 series run of 'Pale Force' is being animated by Thomas Smolenski, who worked on 'Ellen's Acres' and 'Kappa Mikey' at Animation Collective, and Brett Hall, who both hail from New York.