Flash Animation on Wikipedia
Over in the CHF message boards, I've posted my intentions to overhaul the Wikipedia 'Flash animation' post. It's woefully in need of repair and updating, and I think we're just the community to take care of this situation.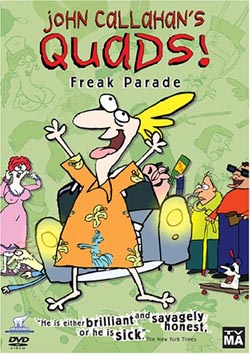 For starters, let's figure out the timeline for Flash-animation on broadcast television. Why does this matter? To know where we're going in our 'paperless 2D' industry, we need to know where we've come from. This is a great opportunity to cement the history of the rapidly-growing digital 2D medium.
In my mind, this first list should include any type of Flash animation on TV. This would include TV series, TV commercials, interstitials and even title sequences. Below is what I could come up with, but I'm expecting plenty of revisions and additions to this:
BROADCAST FLASH TIMELINE
2000
Breakup Girl on Oxygen
The Rosie O'Donnell Show title sequence, produced by Bullseye Art
2001
Ollie's Under The Bed Adventures – March 2001, a half-hour special on Teletoon produced entirely in Flash

by Collideascope

Quads! – November 2001 on Australia's Special Broadcasting Service network
TV Warehouse – BBC program – title sequence done in Flash by Elephant Egg
2002
Next up:
Online Flash series
Feature-length Flash animation
Theatrical-release Flash animation