Girls & Sports Short
When I was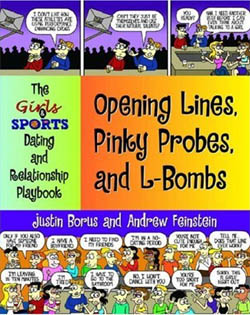 producing one half of 'Cartoon Monsoon' at Warner Bros. Animation, Andrew Feinstein was producing the other half at Warner Bros. Online. It was a fun project to work on, and one that launched the careers of many talented artists and animators.
While he was producing these Flash-animated shorts, Andrew also was moonlighting on 'Girls & Sports' with Justin Borus, the co-creator of this nationally syndicated comic strip. They've since created a book that rivals the new Borat movie for title length: 'Opening Lines, Pinky Probes and L-Bombs: The Girls & Sports Dating and Relationship Guide.'
Several months ago, I introduced Andrew to Matt Wilson, the talented animator behind 'High Score' and 'Bonus Stages,' and the two teamed up. The result is the first episode of 'The Girls & Sports Playbook,' which was storyboarded by Mario D'Anna and voiced by Matt Iseman, Katie Kreisler and Kevin Delaney. Wilson also composed the music, as he does for his other projects.