Homestar Halloween Hoot
Matt and Mike Chapman,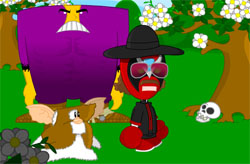 otherwise known as The Brothers Chaps, have released this year's Halloween treat. It's titled 'Hallowday,' and it stars a huge cast, all dressed in extremely unique Halloween costumes.
If you can guess each an every costume in this short, you should consider yourself the king of references. And make sure to watch all the way through to the end – the costumes are all identified in an interactive end-card.
Don't miss the CHF interview with the Brothers Chaps from earlier this year.
There are no comments yet, add one below.