JibJab's Live-Action Experiment
I know this isn't an animation story,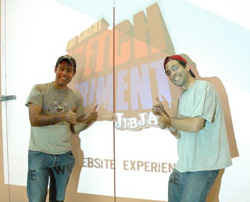 but it's a project I'm extremely proud of. Today at JibJab.com, we launched 'The Great Sketch Experiment,' a collection of 6 live-action shorts in competition for a $10,000 development deal. We teamed up with John Landis, the director of classics like 'Animal House' and 'Blues Brothers,' and 6 sketch troupes from around the US. Initially, over 50 troupes were given photos of a stage in downtown LA filled with police sets, including a jail, a courtroom and an interrogation chamber. Their challenge was to write a short, comedy script that fit this environment, and from the dozens of submissions, Landis chose the 6 finalists. Then, over 3 days in September, the films were shot and now they're online at JibJab.com.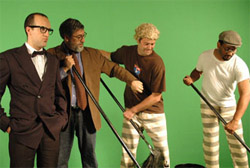 You can vote for your favorite, and we've even broadcast them on Verizon Wireless' V CAST service in the V CAST Showcase channel.
Everyone in our office has their favorite, which I think says volumes about the results of Landis' direction and the talent of the troupes, and I'm biased towards 'Shawshank in a Minute.' It's a rap-version of the classic 1994 Frank Darabont film 'The Shawshank Redemption.' It was written by Erik Weiner and Jordan Allen Dutton, and I somehow ended up playing the role of 'Heywood' in a couple shots (thus the bias). I'm hard to miss – just look for the off-balance, tall guy in the blond wig.