The Man Behind Mr. Man, Part 1
Steve Whitehouse isn't your typical Flash animator. During the 80s and 90s, Steve was working as a traditional animator on projects like 'Beetlejuice' and 'The Ewoks,' and then in 1999 he found Flash, and became one of the first (if not THE first) to use it for TV.
But it wasn't a TV project that propelled him to Flash-fame. It was a series of shorts called 'Mr. Man,' which feature a blinking, speechless, triangular man and his three-legged dog. Over a hundred Flash-animated shorts later, Steve Whitehouse had created one of the internet's most popular characters.
And the festivals took notice.
'Mr. Man' won the Grand Prix Vivendi award at France's 2001 FIFI awards for top internet series. He was nominated in the Internet Series category at the 2004 Ottawa International Animation Festival for his short 'Vacation,' (40 episodes!) and in the same year, his short 'Fishing' was nominated at Annecy in the Internet Films division.
But what separates Steve from so many animators using Flash today, is his pursuit of a higher artistic achievement. An art connoisseur (see his Mr. Man short 'Gallery' for proof), Whitehouse has conceived and animated several shorts that would more aptly be classified as 'avant-garde' than 'cartoon.' From 'Warholvis,' 'Kunstbar,' to 'Da Vinci Blues,' his experimenting is as adventurous as 'Mr. Man' is clever.
Steve took a moment earlier this year to answer a few questions about his career, what inspires him and what lies ahead.
AARON SIMPSON: You seem to have bounced between the worlds of television 'cartoons' and avant-garde animation rather effortlessly. Do these two genres fulfill separate artistic needs for you?
STEVE WHITEHOUSE: Absolutely. Traditional animation (for TV etc.) requires so many people and so many (necessary) compromises that a pure artistic vision is impossible to achieve. There are many restrictions to what can and can't be done on TV. The internet has NO restrictions. When Flash came along, it opened up the doors to me and other independent 'film' makers as a viable means to get our work out 'to the masses'. Free world-wide distribution! The one is a team sport and the other is individual effort. Both satisfy on different levels (mostly monetary! Ha ha ha).
AARON: What was the first animation you created with Flash?
STEVE: The first was 'Interactive Steve' I believe. I was just trying to learn the program; using buttons, etc.
AARON: You emerged on the Flash animation scene fairly early. Did you see it as a movement that would eventually gain steam, or simply a niche?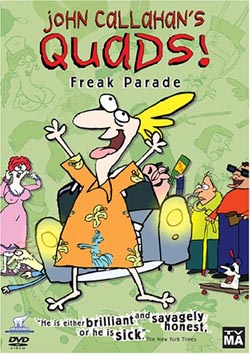 STEVE: I guess I thought it would gain steam. And as it turns out, it has, only not the way I thought it would. Now it's used as a mainstream/cost-saving tool by the big studios, for which I am partly to blame as I was the first to use (Flash) for broadcast. I did a 3 minute promo in 1999 for a show called 'John Callahan's Quads' (originally called 'When Quads Won't Leave'). Dan Aykroyd did the voice! I love Callahan's cartoons and thought the style would suit Flash to a tee, and I was right. In fact, too right. Unfortunately, it turned out to be a double edged sword.
The outcome was that since I was able to the work of so many departments (layout, animation, paint, compositing), the studio saw it as an opportunity to cut back and save $ and do the productions here (in Canada/US) as opposed to sending things overseas (where I spent a lot of time in the 80's and 90's supervising). So now, the salary levels have dropped back to where they were 15 years ago. Sigh.
AARON: Were you using any animation software before you began using Flash?

STEVE: I made some animated .GIFs but the file sizes were so huge that it was prohibitive to put online.
AARON: How has the software evolved since then?
STEVE: Flash 4 was a big improvement over 3 but Flash 5 was a step backwards. They fixed the bugs for Flash MX and that's what I'm still using now. Apparently, in the latest version, they've made the in-between function a little more sophisticated, which I look forward to checking out.
AARON: What was the goal of the Half Empty collective you participated in?
STEVE: You would have to ask Marty Spellerberg or James Paterson that. I was just taken along for the ride (and the bandwidth!). Someone showed me the Halfempty site as it had some of James' animation on it and saw that they were interested in others posting their work. Since I didn't have a website of my own, I sent them a couple of my early shorts ('Da Vinci Blues,' 'Warholvis') which they kindly accepted to put online. In fact, James wrote my HTML (which I am still using for my site today!).
AARON: What inspired your 'Warholvis' short?

STEVE: I did that initially as a birthday card for my Mother (who is a big Elvis fan).
AARON: Where did you first release your Flash short 'Da Vinci Blues?'
STEVE: I came across Wired.com's Animation Express site and sent it to them. To my surprise, not only did they accept it but, they gave me some $ for it! Wow! I realized that not only could I do my own shorts but people would pay me for them. I was off and running.
AARON: Are your Flash character models more elaborate than when you began?
STEVE: Oh sure. Initially, I designed Mr. Man in a crude way on purpose in order to exploit the limitations of the Flash program. But, as processor speeds have improved and with the introduction of broadband, I've been able to add more subtleties.
AARON: What's the secret to 'turning' a Flash character model?
STEVE: Drawing! My background is in traditional animation (ie; pencil and paper) not computers. The computer is just a tool. Using the onion skin function takes the place of the traditional light table.
AARON: You've worked on several animated TV shows, including 'Sam & Max,' 'Beetlejuice' and 'Duckman.' Do you have a favorite?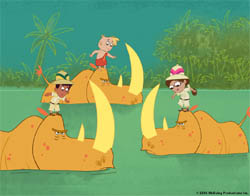 STEVE: All those have a special place in my heart. For 'Sam & Max' we won the Gemini (Canada's Emmy) for best animated series. 'Beetlejuice' because it was rated X (religious fanatics deemed it the WORST show for kids to watch! Because of the existence of the Netherworld, I guess). Duckman because Frank Zappa did the music. Unfortunately, he died that same year. More recently, 'Gerald McBoing Boing' is cool. I've always been a Dr. Suess fan. And 'Pucca' too – it's cute and violent! Ha ha ha.
AARON: When compared to your experiences on 'Beetlejuice' and 'Duckman,' how does the animation pipeline differ on the projects you're currently working on?
STEVE: When I'm working in Canada, I work out of my home. And currently I'm doing storyboards. So my pipeline work like this – I get the script and designs, do the board, ship it off and wait for a cheque. Ha ha!
AARON: What's your main function at Nelvana?
STEVE: I've worked off and on (and off and on again) with Nelvana since 1986 (the first show was 'Ewoks'). But have not worked 'in house' since 1998. Since then, I've supervised animation on 3 direct-to-DVD 'Franklin the Turtle' features in Thailand.
AARON: How has the internet changed the way teams collaborate on animation projects?
STEVE: It's very cool. 'Kunstbar' was done in a virtual studio. I did my bits in Manila while the others did theirs from their homes in Toronto. We e-mailed SWFs back and forth discussing the pros and cons as we went. The big studios have networks set up so you can access materials from home. I animated on 'Foolish Girl' from home.
That's the end of Part 1 of 'The Man Behind Mr. Man – an Interview with Steve Whitehouse.' Check back at the end of the week for the second half!