Nickelodeon's El Tigre Sneak Peek
Well, well, well. Many months in advance of the 2007 launch of Nickelodeon's insanely cool new show 'El Tigre – The Adventures of Manny Rivera,' we get our first sneak peek.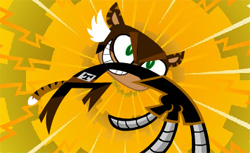 This Flash-animated comedy-adventure series created by husband and wife team Jorge Gutierrez and Sandra Equihua looks as good as I've anticipated, and it should – they've staffed the show with some of the best talent in the industry. I've got loads more to share about this show, as I've visited the production offices and interviewed Jorge and Sandra – but I'm holding off until launch week. In the meantime, head over to Turbonick or go see Dave Thomas' blog to see what the storyboard process is like.

Or check out our interview with El Tigre co-creator Jorge Gutierrez from March of 2005.