Nikodemo Plugs In Electronico
Calico Electronico,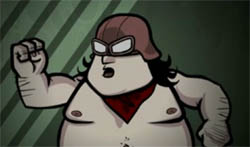 a Flash-animated series from Spain, has spun-off into a new series called 'Huerfanos Electronicos.' It was created by Niko, a prominent Spanish animator, and along with Raul Escolano he runs Nikodemo Animation, which has been featured here before. The series is up to 4 episodes, ranging from 6 to 9 minutes in length. Below is episode one, in Spanish.
Watch the rest here:
Episode 2
Episode 3
Episode 4 (has sync issues)
Nikodemo is made up of 5 artists. Niko and Rafiki design the characters with help from Khris Cembellin, who is also the top Flash animator in the bunch. Santi Riscos helps Niko with the story and animatics, and Paco Sordo is on backgrounds.
For more reading on the topic, I found a lengthy interview with Niko, and Cold Hard Flash wrote up one of Rafiki's projects, 'Antivirus,' which is a big hit on Youtube.