Simpsons Animator Spawns Halloween Short
Just in time for Halloween,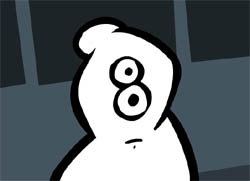 Ben Lane, an animator whose worked on 'The Simpsons' TV show since 1997, delivers a seasonal short. It's called 'Smooky Ghost Story,' and the short was written and narrated by Ben's 5-year old son, Benjamin.
According to Ben, recording was attempted on a few other occasions, but the results ranged from "stone silence to an orchestra of bodily noises." This time around, Benjamin asked his parents if they could record him, and out popped the 'Smooky' story. Young Benjamin also got involved in the design of the short – drawing a few of the ghosts you'll see.
You'll enjoy Ben's career story too.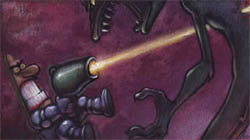 After working on 'The Simpsons' for 7 years in Los Angeles, he and the family headed off to Omaha, where he continues to freelance for the show. Ben's a talented artist, as you might imagine, and his portfolio shows a range of design styles.
Ben barely beat his own show to the Halloween punch. The politically-tinged 'Treehouse of Horror XVII' debuts on November 5th. Can't wait!