November 8, 2006
by
aaron
Frederator Ships FredEx
Channel Frederator has announced an exciting new animation project with a clever name – FredEx.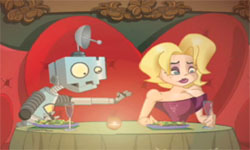 It's an experiment in animation colloboration that challenged filmmakers from around the world to produced 10-20 seconds of animation on a common theme. The first installment is 'Robots,' and iPod-ready episode is available for download now (NSFW).
The shorts were produced in a variety of formats, including the following Flash shorts – Salad Bars by Mukpuddy, Weddings by Doogtoons, Dating by Animax Entertainment and Death by Bernard Derriman.
Related Posts
"Weird Al" Yankovic's world tour kicks off in May, and while we await his imminent global domination, enjoy this Flash animated interview, brought to life …

December 23, 2014

by

aaron

The holiday animated shorts are rolling in, and here's the first batch. Happy Holidays everyone! Christmas Babies Andres Kwon Drunk Santa 2014 Mukpuddy Xmess Hannes …

February 12, 2014

by

aaron

Doug 'Doog' Bresler is now releasing shorts at a breakneck pace – one a week. Here's his latest that investigates the ingredients in a delicious …

January 31, 2014

by

aaron

Doug 'Doog' Bresler has released a very innovative new interview project. I spotted it on newmediarockstars.com, where Bresler was interviewed about his interview. The subjects …