Happy Tree Friends Exclusive Episode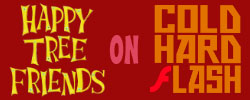 Back in October, a series full of brand-new 7-minute Happy Tree Friends episodes launched on G4 TV. In fact, there's 39 new episodes and they're being released 3-at-a-time, Sundays at 5:00pm and 12:30am. Also, starting next week, the series will air Saturdays at 2:30am.
And now Cold Hard Flash has teamed up with Mondo Media to offer an online exclusive! It's a full episode from the TV series with a commentary track from the production team. If you'd prefer to hear the episode without the commentary, just click the track at the bottom of the player window. So without further adieu, I present your hosts for the episode titled From Hero To Eternity.
Kenn Navarro – director
David Ichioka – producer
Ken Pontac – story editor
Warren Graff – story editor
Flash Player source created by Jeroen Wijering
It should be mentioned that 2 great production studios helped this effort along – Ghostbot, who designed and animated the pop-up style title sequence and Fatkat Animation who animated the entire series. Be sure to check out photos from the Fatkat HTF wrap-party over on their blog.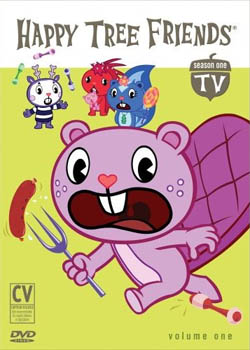 I think we all missed a helluva party.
The first season is already planned for a DVD roll-out just in time for the holidays. On December 5th, Happy Tree Friends: Season 1
will deliver 9 full-episodes, commentary tracks, storyboards and a behind the scenes look at the production.
If you just can't get enough Happy Tree Friends, head on over to the Cold Hard Flash interview with Kenn Navarro, the co-creator of the show. You'll notice that Kenn mentions that they were tinkering with the idea for the TV series way back in the Spring of 2005 when I first interviewed Kenn.