Kamentsky Animates Pancakes
Gina Kamentsky's list of careers reads like an art student's dream.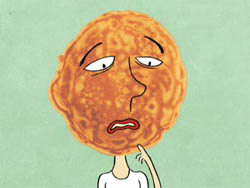 This Massachusetts-based artists has designed miniature golf courses, created dozens of commissioned sculptures, created comic books and prototyped award-winning board games and children's toys.
In 1998, while working for toy-maker Lego, she discovered Flash, which she used to produce virtual prototypes. It wasn't long before she started using the software to create her own animations for the web.
Gina's latest animated creation is titled You Got Pancake (mild-nudity), a short and relatively abstract work filled with plenty of drawings and snappy timing. I spotted the short in the the message boards, and just had to share it.
There are no comments yet, add one below.