Animator Teams With Chemist
James Reitano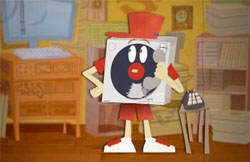 knows a thing or two about hip hop music videos. He's worked with some of the kings including Madlib, Danger Mouse, MF DOOM, Biz Markie, Quasimoto and KutMasta Kurt, and along the way he threw in the seminal punk band The Dickies, just for good measure.
But now, on the heels of his brilliant ALLCAPS video for Madvillian, Reitano delivers perhaps his best work to date. Leaning on styles from the 70s, James animates what you can hear any night in hip hop clubs around the world – a conversation between two turntables. The song is from Cut Chemist's latest album The Audience's Listening and the song is titled Spat.
Reitano and Cut Chemist actually began this video a couple years back, but other projects delayed their collaboration. If you pay attention, you'll see the characters disagree (the spat), then make-up and eventually hit a perfect harmony through to the end. After the video plays, sit tight for a screening of Reitano's animatic.
[MYPLAYLIST=10]
Reitano's previous project, ALLCAPS, was the focus of a Channel Frederator interview.
Mad Villain – ALLCAPS
And a few other notable videos he's produced through the years…
Quasimoto – Bullyshit
DANGERDOOM – Aqua Teen Hunger Force
The Dickies – Donut Man