Romeo and Juliet Takes Top Prize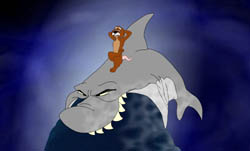 Phil Nibbelink, the creator, director and "wrist" behind all 112,000 drawings in Romeo & Juliet: Sealed With A Kiss, was recently awarded Best in Show and 1st Place at the Best in the Southwest Film Festival.
The Cold Hard Flash interview with Phil, which launched back in October of 2006, is one of the most popular stories in the site's history. It's no wonder – Nibbelink's tale of inspiration and perseverance is just fascinating.
Congratulations, Phil!